Eqonomize!
- efficient and easy accounting for personal financies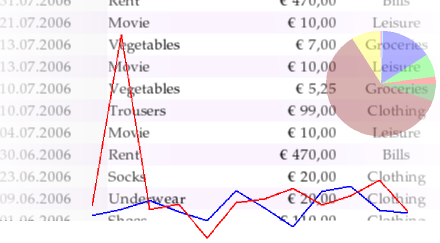 Eqonomize! is a cross-platform personal accounting software, with focus on efficiency and ease of use for small households. Eqonomize! provides a complete solution, with bookkeeping by double entry and support for scheduled recurring transactions, security investments, and budgeting. It gives a clear overview of past and present transactions, and development of incomes and expenses, with descriptive tables and charts, as well as an approximation of future account values.
This project welcomes new developers. Visit the project page
here
.
---
Latest News
.: 2020-08-17 :. Eqonomize! version 1.5 released
Eqonomize! version 1.5 adds support for links between transactions in addition to bug fixes and some minor feature improvements.

Changes:
Option to link transactions (indicates that the transactions are related and adds clickable links)
Option to join or link refunds to original transaction
Split up option for transactions with multiple payments
Join transaction as transaction with multiply payments when appropriate (ask when uncertain)
Clickable "part of split" label
Brazilian Portuguese translation
Fix importing if split transactions from eqz file
Fix recurrence on day of year
Fix potential never ending loop with monthly recurrence that never occurs
Fixes for recurring transactions with multiple accounts/payments
Minor bug fixes and feature improvements
Get the new version from the downloads page.