Eqonomize!
- efficient and easy accounting for personal financies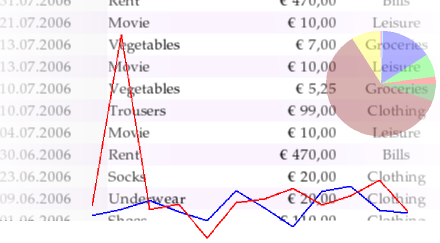 Eqonomize! is a cross-platform personal accounting software, with focus on efficiency and ease of use for small households. Eqonomize! provides a complete solution, with bookkeeping by double entry and support for scheduled recurring transactions, security investments, and budgeting. It gives a clear overview of past and present transactions, and development of incomes and expenses, with descriptive tables and charts, as well as an approximation of future account values.
This project welcomes new developers. Visit the project page
here
.
---
Latest News
.: 2019-09-09 :. Eqonomize! version 1.4.2 released
Eqonomize! version 1.4.2 includes minor feature improvements and bug fixes.

Changes:
Make it possible to select multiple separate accounts, categories, tags, descriptions, and payees/payers in reports and charts
Option to display absolute values instead of percentages in pie chart
Option to save import CSV settings as presets
Allow fixed category (add income category selection) when importing both expenses and incomes from CSV file
Security quotes import and export (in quotes dialog)
Keyboard shortcut and context menu item for current date in date entries and calendar popups
Fix segfault when editing scheduled transaction with current date
Fix deletion of multiple transactions in ledger
Fix set single transaction in edit widget for transaction with multiple accounts/payments and multiple currencies
Minor bug fixes and feature improvements
Get the new version from the downloads page.