Eqonomize!
- efficient and easy accounting for the small household economy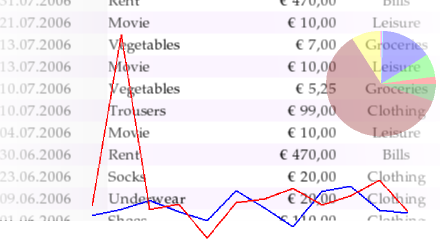 Eqonomize! is a cross-platform personal accounting software, with focus on efficiency and ease of use for the small household economy. Eqonomize! provides a complete solution, with bookkeeping by double entry and support for scheduled recurring transactions, security investments, and budgeting. It gives a clear overview of past and present transactions, and development of incomes and expenses, with descriptive tables and charts, as well as an approximation of future account values.
This project welcomes new developers. Visit the project page
here
.
---
Latest News
.: 2018-02-05 :. Eqonomize! version 1.2 released
Eqonomize! version 1.2 includes minor feature enhancements and bug fixes.

List of main changes:
Local and remote file synchronization allowing multiple users to edit the same file (experimental)
Restore possibility to specify payee/payer for each separate transaction in a split transaction
Annual total for over time chart
Include subcategories in over time report
"All payees and payers" in categories comparison report
Case insensitive descriptions and payees in charts report
Only assume negative income/expense if the category is defined in the QIF file
Get the new version from the downloads page.