Eqonomize!
- efficient and easy accounting for personal financies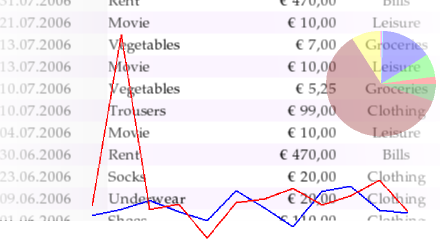 Eqonomize! is a cross-platform personal accounting software, with focus on efficiency and ease of use for small households. Eqonomize! provides a complete solution, with bookkeeping by double entry and support for scheduled recurring transactions, security investments, and budgeting. It gives a clear overview of past and present transactions, and development of incomes and expenses, with descriptive tables and charts, as well as an approximation of future account values.
This project welcomes new developers. Visit the project page
here
.
---
Latest News
.: 2021-03-19 :. Eqonomize! version 1.5.2 released
Changes:
Fix segfault with scheduled security transaction without recurrence
Fix calculation of expression with parentheses in value entry
Fix initial state of "Bank" entry when initial account type is not "Cash"
Fix security rate for future dates
Remove total securities rate value
Open ledger on account double click regardless of column
Danish translation
Get the new version from the downloads page.