Eqonomize!
- efficient and easy accounting for the small household economy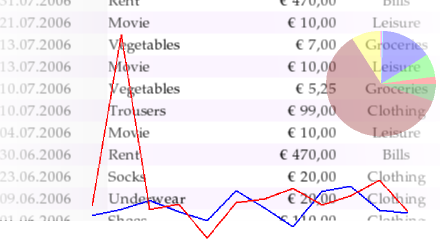 Eqonomize! is a cross-platform personal accounting software, with focus on efficiency and ease of use for the small household economy. Eqonomize! provides a complete solution, with bookkeeping by double entry and support for scheduled recurring transactions, security investments, and budgeting. It gives a clear overview of past and present transactions, and development of incomes and expenses, with descriptive tables and charts, as well as an approximation of future account values.
This project welcomes new developers. Visit the project page
here
.
---
Latest News
.: 2016-10-10 :. Eqonomize! 1.0 beta 1 released
After 8 years, development has once again picked up speed. During the last months, Eqonomize! has been enhanced in many ways.

Qt is now the only dependency and it should be possible to compile and run Eqonomize! on every platform supported by Qt. Windows binaries are provided, but the main development platform is still Linux (the application has also been tested on Android).

Main additional changes:
Subcategories
More and enhanced charts
Scheduled split transactions and transactions with multiple payments
Explicit support for loans and related transactions
Option to select start of budget month
Many small interface enhancements, including new icons
For a complete list of changes see the ChangeLog.

Before the final version 1.0 is released, the manual will be completed and updated, and likely many bugs will need to be fixed (although the list is empty at the moment). Translations should ideally also be updated and completed, but your help is needed for that to happen.